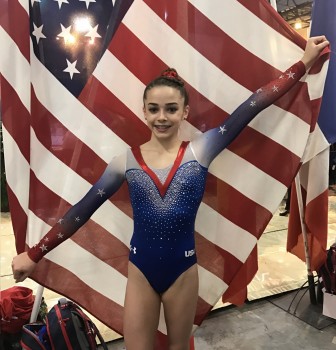 This Saturday, July 29th, watch our National Team Member, Olivia Dunne, compete at the US Classic.  The U.S. Classic, which has athletes competing on the junior and senior levels, is the last opportunity for female gymnasts to qualify for the P&G Gymnastics Championships, USA Gymnastics' national championships, scheduled for Aug. 17-20 at Honda Center in Anaheim, Calif. Gymnasts who have already qualified to the P&G Championships use the U.S. Classic as a final tune-up for competition in Anaheim.
The competition schedule is: U.S. Classic – July 29 at 1 p.m. CT for juniors and 6:30 p.m. CT for seniors. The Hopes Championships, which features young, aspiring female gymnasts, is held in conjunction with the U.S. Classic and is scheduled for July 28 at 2:30 p.m. CT.
The six members of the U.S. Junior National Team in the field will compete during the senior session but will vie for junior titles: Olivia Dunne of Hillsdale, N.J./Eastern National Academy of Paramus; Adeline Kenlin of Iowa City, Iowa/IGN; Emma Malabuyo of Flower Mound, Texas/Texas Dreams Gymnastics; Maile O'Keefe of Las Vegas, Nev./Salcianu Elite Academy of Gymnastics; Sunisa Lee of Saint Paul, Minn./Midwest Gymnastics Center; and Gabby Perea of Geneva, Ill./Legacy Elite. The six are competing in the senior session due to the large number of junior gymnasts who qualified for the U.S. Classic.
Fans who cannot make the trip to the Chicago area can watch the junior session and the Hopes Championships via a live webcast at usagymclassic.com/live. The Olympic Channel is televising the senior competition live, and the webcast may be viewed on mobile devices via olympicchannel.com. For more information, go to usagymclassic.com
.